Marianne Bertrand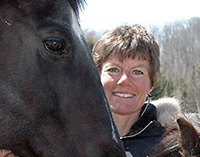 Marianne is an entrepreneur who works from the heart. Entrepreneurial instinct and innovation based on her life passions has created a continuum of success.
In 2009 Marianne founded her 3rd business, The Anahata Horse Centre, from her heartfelt life experiences. The Anahata Horse Centre journey began in 2002, when following her heart and her lifelong dream; she bought 150 acres of rolling hills in Bancroft, Ontario. She named the property White Buffalo Acres. White Buffalo Acres became home to a variety of "critters" including dogs, cats, goats, pigs, horses, donkeys and a llama. Through the rehabilitation work with her horses, Marianne soon came to realize horses have profound inner wisdom, a natural ability and willingness to heal others. Her experience with the horses led her to becoming a certified FEEL (Facilitated Equine Experiential Learning) practitioner and the founding of the Anahata Horse Centre.
Her first business, Rulestone Renovations Inc., was a residential renovation business specializing in healthy housing born of Marianne's environmental sensitivities and her passion for environmental and non-toxic construction. As a result of the company's innovations, the residential renovations company was awarded the CMHC 1995 Healthy Housing Award.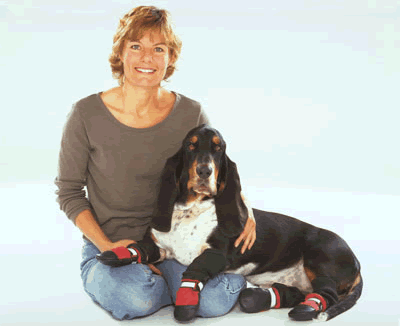 Muttluks Inc. was founded on her experience with and compassion for dogs. In 2002, Marianne received the Canadian Women Entrepreneur of the Year Award in the innovation category and Muttluks was awarded the Toronto Humane Society "Be kind To Animals" Award for its altruistic action of donating 850 sets of dog boots for the 300 Search and Rescue dogs at Ground Zero.

Marianne has a diverse training in the healing arts and working with animals. She and her dogs have participated in the St John's Ambulance Pet Therapy program. Over the years she has studied Tai Chi, Qigong and yoga. She is a shamanic coach, a level 3 Reiki Master, a CranioSacral therapist for humans and equines, a medical intuit and an animal communicator.

Marianne could easily be taken for a renaissance woman. Montreal born and raised, she holds a BA in Business Administration from Acadia University with a major in Accounting and Small Business. Ms Bertrand is a graduate of the Canadian Securities Commission Course and also pursued a degree in Interior Design at Ryerson Polytechnic University.
Marianne exemplifies "business with a passion" and the spirit of "Heart Felt Success".

Jody Raven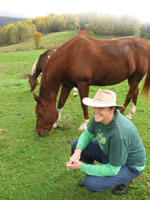 Horses were a significant source of connection for Jody during her childhood. She slowly lost that contact as she grew up and trained to be a therapist and teacher. During her shamanic training Jody became reacquainted with the animal world and horses in particular. She attended a number of workshops at Horse Spirit Connections and marveled at the power, beauty and transformation of the work with horses.
In becoming a Facilitated Equine Experiential Learning Practitioner, Jody has embraced the partnership of human and horse, understanding the potency and resource that such a relationship can offer.
Jody has spent the last 27 years working and learning as a counselor and therapist. She currently offers therapy in private practice in Bancroft, Ontario. She is the co-founder and co-facilitator of the Sacred Path Centre, offering workshops braiding spirituality, creativity and sexuality. Jody's primary focus as a therapist is on working with adult survivors of childhood trauma. As a shamanic practitioner she brings earth-based healing modalities into much of her work as a healer.
Jody offers equine facilitated therapy and workshops through the Anahata Horse Centre in Bancroft, Ontario where she works with Marianne Bertrand, and her herd of rescue horses and donkeys. The horses are teaching Jody how to work as a healer in a new way and to find true balance through connection with nature.


Melissa Gordon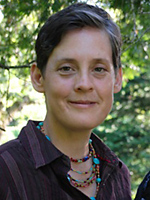 Melissa Gordon has worked for many years as an artist and teacher. Soon after completing a Masters of Fine Art degree at the University of Waterloo in 1999, she began her journey as a student of shamanism and as an apprentice on the Sweet Medicine Sundance Path, a journey that honed her leadership skills and expanded her knowledge of healing and connection to spirit and the natural world.
In the last five years, Melissa has woven her diverse strands of education, work and spiritual path together as a workshop facilitator at the Sacred Path Centre in Bancroft, Ontario. More recently she has added another strand; with the completion of the "Partners in Connection" program at Horse Spirit Connections, she has become a co-facilitator at the Anahata Horse Centre in Bancroft.
It seems that life has come full circle as Melissa's teenage passion for horses has reappeared powerfully with a shifted focus to experiencing horses as willing companions in the journey towards self-knowledge, healing and connecting to life.

Victoria Poe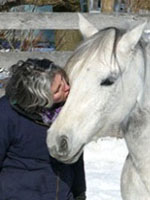 Victoria Poe has been involved with horses for more than 20 years and owns two Paso Finos. Over 12 years ago, she recognized the power of horses to help heal and educate beyond riding and she began her journey in the field of Equine Facilitated Learning (EFL). Victoria became very excited about incorporating horses into her field of education and training and founded 2 Lead Change, a business in Career Coaching, English Language Learning, and Equine Facilitated Learning (EFL).
Victoria enjoys assisting people, whether in their careers, as new immigrants to Canada, or with their personal lives – and welcomes innovative approaches to learning. As an accomplished educator, she has has honed her skill with extensive experience in Project Management and Employment Training, including international experience. Victoria has over 20 years experience developing and implementing employment and communication training programs for immigrants, youth-at-risk and woman while managing client intake, assessment, and career planning. A strategist as well as a teacher, Victoria has worked with the Agribusiness and Trade Unit of Deloitte Touche Tohmatsu Emerging Markets providing support in project/proposal administration, marketing, and recruiting for international development projects. She holds a Bachelor of Education specializing in Teaching English as a Second Language (TESL), an Ontario Teacher's Certification (OTC) and a TESL Ontario Certification.
Victoria currently is an associate with Horse Spirit Connections and co-facilitates with other EFL practitioners. As facilitator, mentor, program developer, and train-the-trainer assistant, Victoria brings her education and training expertise as well as her diverse experience working with horses. She has learned from EPONA instructors, Klaus Hempfling, EAGALA, Canadian Therapeutic Riding Association, and Equine Guided Education Association.
Victoria enjoys being in nature, dancing Tango and kayaking Georgian Bay. With joy, she celebrates her family, including her two children and partner, Gary.